Context:

CELLINE comprises four IBM BladeCenter QS22 and one IBM BladeCenter LS22. Each QS22 comprises two IBM PowerXCell 8i processors. The LS22 comprises two Quad Core AMD Opteron 2356 processors.
The improvement of the processor performance by increasing the clock rate has reached its technological limits. Increasing the number of processor cores rather than clock rate can give better performance and reduce problems like energy consumption, heat dissipation and design complexity. We are witnessing the emergence of multi-core processors in all markets from laptops and game consoles to servers and supercomputers.

Programs developed for traditional processors will not perform well on multi-core processors. Both advanced parallel programming techniques from high performance computing and new techniques are required for the development of efficient and portable multi-core programs.
Objective:
Our aim is to develop a high-level program development model for multi-core computing systems, which hides the complex details of low-level multi-threading (see Figure 1). Our approach supports a compositional program development process, where programs are constructed from smaller parallel building blocks that are adapted and tuned for a specific multi

-

core platform.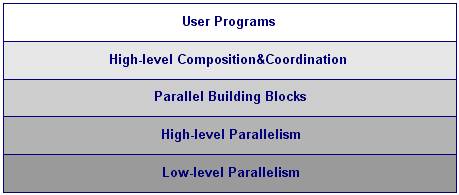 .

Figure 1. Abstraction levels.
A major focus is put on choosing appropriate high-level abstractions for expressing the parallelism, data access and synchronization. In addition, we are investigating techniques for the program development using composition and coordination of the parallel building blocks.